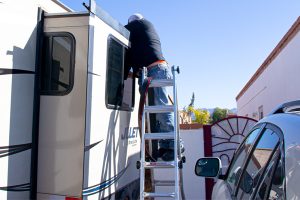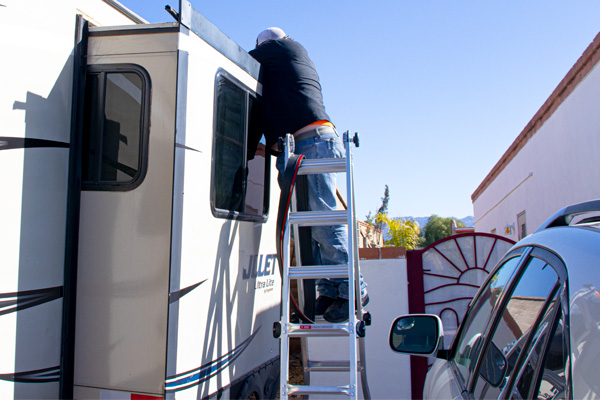 RV Roof inspection services by T&A Mobile RV Repair offer a convenient and cost effective way to maintain the roof of your RV – one of the most crucial pieces of the entire vehicle. You may not know this, but your roof can undergo stress, wear, and tear in a great variety of ways. Over time, these stresses can wear down key components of the roof's structure, leaving you with lasting problems and a potentially massive headache as well as repair bill. Don't let it get to that point – call us at T&A Mobile RV Repair and we will come to your location to inspect your roof fully, ensuring that any damage is found and reported to you. In addition to inspections, we offer comprehensive RV roof repair services as well, making us the one-stop shop for keeping the elements off of your head while you are on your next adventure.
Importance of RV Roof Inspection
We can't state enough how important it truly is that you maintain the health of your RV's roof. This piece of your dream is not only crucial to keeping you warm and cozy at night, but it protects all of the other systems in the RV which are not weather-proof. Losing even a small percentage of your roof's structural integrity can prove a grave danger. At T&A Mobile RV Repair, we aim to stop it from ever getting to that point. Our expert technicians are ready to come to your location and perform a full RV roof inspection, letting you know exactly what condition your roof is in, as well as what it would take to make any repairs we happen to find.
Comprehensive RV Roof Inspection
We offer a multi-point, comprehensive RV roof inspection to ensure your investment is adequately protected. Your roof will be inspected visually with the expert eyes of your technician, who has nearly 15 years of experience. From there, we will check for cracks in your seals, as well as punctures in the roof itself and other signs of wear. We'll fully asses your roof seals for any damage or normal wear they may have experienced. We'll check to verify moisture is not making its way into your RV, and identify any potential leaks which may exist.
RV Roof Cleaning Service
Cleanliness is an important part of maintaining your RV roof. Besides simply maintaining the appearance of your RV, regular cleaning prevent the buildup and incursion of mold and other potentially hazardous life. Additionally, keeping a clean RV roof extends the overall lifespan of the roof itself, protecting your investment. However, keeping your RV roof clean can be dangerous in and of itself, as it requires going on top of the vehicle to be done properly. T&A Mobile RV Repair can come to your location and perform a full cleaning, as well as give you some handy post-cleaning tips and longevity care.
Contact Us To Schedule Your RV Roof Insepction
Give us a call at 520.800.3554 to get your RV roof inspection scheduled. Once you have your appointment, you can sit back and relax knowing that your technician will be coming to you. We'll take good care of your roof and explain everything we do, so that you know what to expect as well as how often service should be perfomed. Best of all, you won't have to go anywhere to do it!